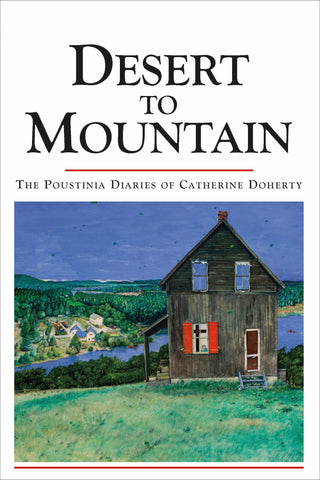 Desert to Mountain: The Poustinia Diaries of Catherine Doherty
The Poustinia Diaries of Catherine Doherty, adapted and compiled with introduction & footnotes by Fr. Blair Bernard. Preface by Fr. David May.
Desert to Mountain takes excerpts from Catherine's diaries during the years she prayed in the poustinia, providing an intimate glimpse into her interior life. She speaks to us today as a prophetic woman, passionately in love with God.
"A little candle in the darkness is a great light for those who abide in the darkness. It seemed to me that's what God wanted of Madonna House, to be that little candle in that terrible darkness that is here, that will intensify in the days and years to come."
— Diary entry, November 15, 1966
"…she was full of the love of God; and prayer and sacrifice and total, uncompromising poverty had filled her soul…I could see the tremendous spiritual vitality of grace that was in her, a vitality which brought with it a genuine and lasting inspiration because it put…souls in contact with God as a living reality."
— Thomas Merton

"When I was a young seminarian, one of my favorite spiritual authors was Catherine de Hueck Doherty."
— Francis Cardinal George
About the author Catherine Doherty
210 pages — 5½" x 8¼" — 1st ed., Madonna House Publications, 2021 — Compiled & edited by Fr. Blair Bernard — 978-1-77312-008-9
Read more...
---
We Also Recommend
---