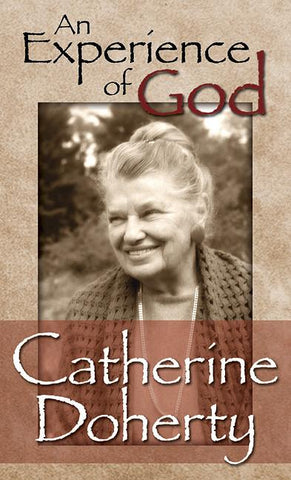 An Experience of God: Identification with Christ—A Road to the Mystical Life
A mini-biography of Catherine Doherty as told through these selections of her writings, highlighting her love for Christ in the poor, her intercession for the Church, and her deep contemplation of the mysteries of our faith. Hers is a prophetic voice for our times.
Selected spiritually autobiographical writings of Catherine Doherty, compiled and introduced by Father Émile Brière
Within, you will receive a further understanding of the crisis the Church is now experiencing—and the power one life totally given to Love can have.
Lovingly compiled by Father Émile Brière, a friend of Catherine's who also authored the insightful introduction.
First published in French as: L'expérience de Dieu avec Catherine de Hueck Doherty (Éditions Fides, 2001). This book was part of the series L'expérience de Dieu, "a collection of essential texts of Christian spirituality."

The French edition is available.
 About the author Catherine Doherty
160 pages — 4.25" x 7" — Trade Paperback — Madonna House Publications, 2002 — ISBN 0-921440-87-1
Read more...
---
We Also Recommend
---