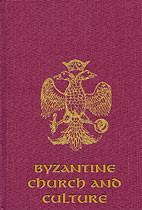 Byzantine Church and Culture
The grace, splendor, dignity, history, and culture of the Byzantine Church can be discovered in this overview of its development in Byzantium, relationship to the Byzantine Empire, and early history.
A brief, enlightening introduction to the profound spirituality of the Christian East — and the culture that it created
Byzantine Church and Culture is the perfect introduction to the East for a Western Christian who is intrigued by Byzantine spirituality and wants to learn more. Long ago, Archbishop Joseph Raya's friend Martin Luther King, Jr., asked him, "Father Joe, what are the roots of your church culture?" In this book is the answer.
Archbishop Joseph traces the influences that formed, in the cauldron of first-millennium Constantinople, the Byzantine Church and its unique and profound perspective on the great truths of our Christian faith. Archbishop Joseph outlines the Emperor Constantine's decision to build a new imperial capital in the East, which became the great city of Constantinople, and provides a brief but comprehensive sketch of the historical development of the Eastern and Western churches. He explains how and why differing views of papal power and the Creed (particularly the "Filioque" clause) ultimately led to a breach that has lasted a thousand years and remains unhealed today. Recalling history and pious legend, Archbishop Joseph recounts the tale of the last Divine Liturgy in the great Hagia Sophia cathedral in Constantinople, the radiant devotion of the people of Constantinople for the Mother of God, the union in Constantinople of heavenly Jerusalem and Babylon, and more. He even includes a bibliography, so that you will know where to turn for more information about this glorious civilization that has given so much to the universal Church.
About the author Archbishop Joseph Raya
72 pages — Hardcover, 6″ x 9″ — Alleluia Press, 1992 — ISBN 978-1-897145-88-3
Read more...
---
We Also Recommend
---